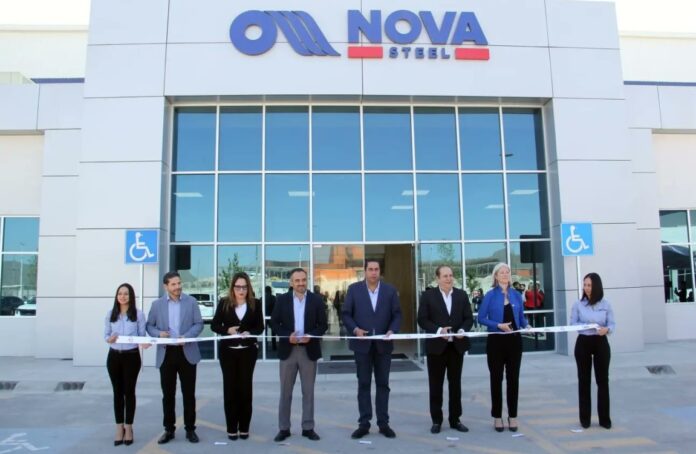 The producer of steel parts for the industry, Nova Steel de México, of Canadian origin, inaugurated its number three plant in the Santa María Industrial Park with an investment of 37 million dollars and the generation of 80 new jobs.
On behalf of the governor, Miguel Ángel Riquelme Solís, the Secretary of the Economy of Coahuila, Claudio Bres Garza, together with the head of State Labor, Nazira Zogbi Castro; the mayor of Ramos Arizpe, José María Morales Padilla, and the general manager of the Plant, Mauricio Campos, launched the company's operations.
Before the Consul General of Canada, Sandra Shaddick, the state public servant put into operation the new consortium company that since its installation in Coahuila has had global investments of 85 million dollars, with a workforce of about 350 workers.
In his speech, Bres Garza highlighted the attendance of the Canadian diplomat, who has repeatedly visited various points in the entity where her country has investments.
"He was recently in Ciudad Acuña and Piedras Negras, as well as Saltillo and Ramos Arizpe. The fact that Coahuila has more and more investments from that nation is a product of what the state has achieved in recent years, "he added.
On the other hand, he said that among the "business cards" that Coahuila offers to investors already established or interested in reaching the entity, there is the fact that for more than 30 years there has been no strike in our territory.
"This shows the common interest in seeking the common good, both for the company and for the workers, and fortunately the new companies that come to Coahuila offer attractive salaries that favor family well-being," he said.
"Nova Steel has bet on Coahuila, on Ramos Arizpe, on skilled labor, on safety (…) and we recognize their willingness to choose Coahuila as their place to continue growing," he added.
The company is present in the automotive, agricultural, and railway sectors, and as of October it will venture into the manufacture of modern steel piping systems, he anticipated.
La productora de partes de acero para la industria Nova Steel de México, de origen #canadiense🇨🇦, inauguró su planta número tres en el Parque Industrial Santa María, de #RamosArizpe con inversión de 37 millones de dólares y 80 nuevos empleos. pic.twitter.com/6F7PgcsCJ8

— Gobierno de Coahuila (@GobDeCoahuila) March 23, 2023
innovation center
Given the announcement made by the general manager of the plant, Mauricio Campos, related to the future adaptation of this factory to a Technological Innovation Center for its factories in the United States and Canada, the Secretary of Economy of Coahuila stressed that the entity will maintain its effort and dedication to academically train the professionals that the industry will demand in the future.
He argued that in this sense, Coahuila seeks innovation centers to have a broad vision of the future, with the hiring of quality and high-level employees.
Source: El Economista