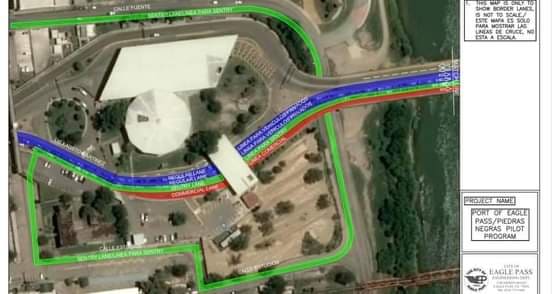 **IMPORTANT BRIDGE 1&2 NOTICE** Pilot Program Effective Monday June 21, 2021 the following changes will take effect:
EAGLE PASS BRIDGE 1 During normal hours of operation(7:00a.m.-3:00p.m.) U.S. Customs and Border Protection will ONLY be processing incoming traffic from Mexico that are: Sentri Certified, Global Entry Certified or have US passport with RFID chip. All occupants of the vehicle must comply with the above. Traffic attempting to cross with other verification forms such as ID or Birth Certificate will ONLY be allowed to cross through Bridge 2. From 3:00p.m.-6:00p.m. Only certified Sentri & global will be processed.
CAMINO REAL INTERNATIONAL BRIDGE 2 Sentri and Global Certified vehicles will have access to Bridge 2 via Calle Fuente by proceeding under the bridge and approaching the former Ferromex Office Building/Hotel and exiting through the gate near the pedestrian bridge accessing the outer lane to approach the toll booth.
Sentri Lane on the bridge platform will also switch to the second lane from the pedestrian curb, it will now be directly next to the commercial lane. What is now the Sentri lane will become a regular passenger vehicle lane.
Nom-essential Travel Restrictions remain in place and no other changes to Bridge 1 or Bridge 2 operations have been implemented.
The Port of Eagle Pass/Piedras Negras Agencies would like to ask our customers for their support and compliance of the implemented pilot program.
We encourage all customers to look into obtaining their passport, Sentri or Global certifications.
Sentri & Global https://ttp.cbp.dhs.gov
Passport https://travel.state.gov/content/travel/en/passports/need-passport/card.html
Thank you, Bridge Administration