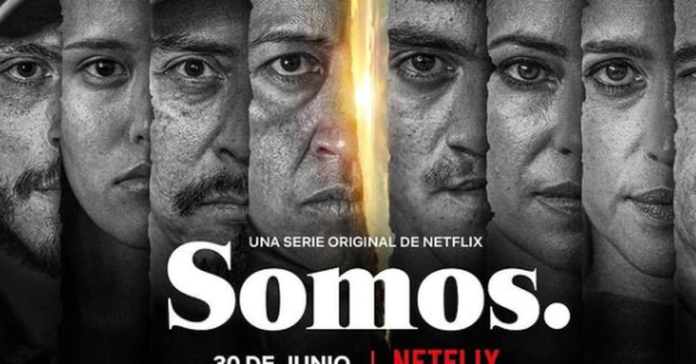 Schamus presents the trailer and key art for his new drama series Somos. premiering June 30
Reading Pulitzer Prize-winner Ginger Thompson's oral history of a little-known 2011 massacre in the Mexican border town of Allende, and of the role, the U.S. government played in triggering it, is an experience at once intimate and vast. Hearing the voices of survivors, whether they were perpetrators or victims (and in some cases, they were both), is to enter a world paradoxically hidden behind the headlines that purport to inform us about it. 
Our drama series, Somos., centers on the days leading up to that terrible event, and on the people whose lives were changed forever by that DEA operation gone wrong. In telling the story, we have two core objectives: to make visible the people our culture often works to erase from our perceptions and memories, and to affirm our co-existence with them. In English, the phrase 'Somos' requires two words: "We are" or "We exist." But in Spanish, one word says it all. I asked if we could add a period after the title so that it reads as an assertion, and not just a title.
Reflecting lives on the screen
Somos.'s characters show another side of a story we've seen so often on screen. Instead of the narco or the cop with the gun, we turn the camera around on the extra in the corner. What's that person's life like? What are they thinking right now? What's going to happen to them? The people who hover around the borders of the screen – those are the people at the center of Somos.
Our hope is that you'll connect with the people of Allende and share in their laughter, their love, their aspirations. In our series, you get to know what's important to a young teenager, a mother, a firefighter, a rancher. We want those things to be important for you too, regardless of the encroaching tragedy.
Engaging reality through fiction
Although Somos. is grounded in true stories, it is essentially a fiction. We didn't want the people in Allende to worry that we might be misremembering or misrepresenting real people. So we took elements from many stories, and then created new characters to enact and expand upon them. In this way, everyone in Allende will still see themselves and their neighbors in the series. But through these fictions we hope to add to their – and to our – shared reality, and in this way help that reality becomes a bigger part of the conversation.
A Mexican & Latin American team
I always knew Somos. should be created by Mexicans and primarily for Mexicans. My role was to serve as a kind of participant-observer, to use my ignorance as a kind of springboard to open space for the extraordinary team behind the series. I was not only new to television production, even after decades in the film business, but new to everything in Mexico. (Happily, the team indulged my painfully slow progress with learning Spanish and my enthusiastically quick progress enjoying the cuisine.)
And thus the whole process was built around empowering our hundreds of colleagues to lift their voices, share their knowledge, and articulate their perspectives and ideas so that every detail rang true. Our writers Monika Revilla and Fernanda Melchor, producer Sandra Solares, directors Álvaro Curiel and Mariana Chenillo, and head editor Soledad Salfate all shared this commitment to collective empowerment. And it is not coincidental that the majority of key creative leaders on the series are women, for it is mainly women who spoke most fearlessly in Ginger Thompson's oral history, and women who continue to lead the effort to memorialize and account for the events on which Somos. is based.
I am grateful to be able to share this amazing project with audiences in Mexico and around the world on June 30. 
Source: elsiglodetorreon.com.mx, netflix.com