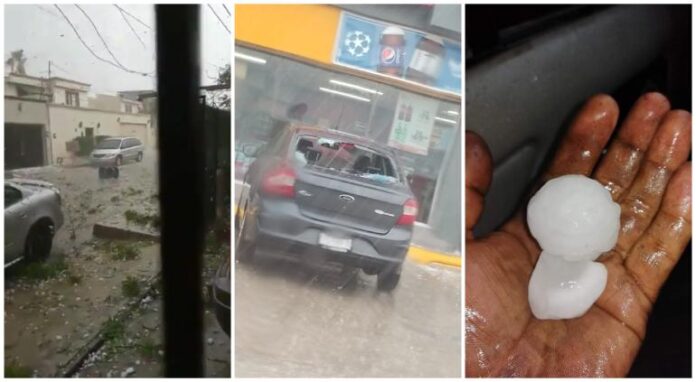 In the border city of Acuña, in the state of Coahuila, a strong fall of hail was registered, which represented a danger for the population since the hail broke windows, damaged cars, and properties in the cities of Acuña and Piedras Negras, and there was an alert for having conditions for the formation of tornadoes.
The authorities indicated that they forecast heavy rains with hail, strong winds, and conditions for the formation of whirlwinds or tornadoes for the night of this Wednesday and early Thursday morning.
Through social networks, citizens shared images of the effects of this meteorological event, where large balls of hail can be seen.
#AlMomento
Se registra caida de granizo de hasta 1.50 pulgadas en #Acuña y hasta 3 pulgadas en #DelRio

Pendientes mas arribo de tormentas con más potencial de granizo.

Fotos: @Proteccion_MX pic.twitter.com/2QyX9gruUP

— Jonhatan Martinez – Meteorología (@jonhatantiempo) April 28, 2021
Coahuila residents reported falling chunks of ice larger than three inches in diameter.
Local media in Coahuila report at least 11 people injured, in addition to extensive material damage.
Source: Tiempo Noticia Digital
The Torreon Post