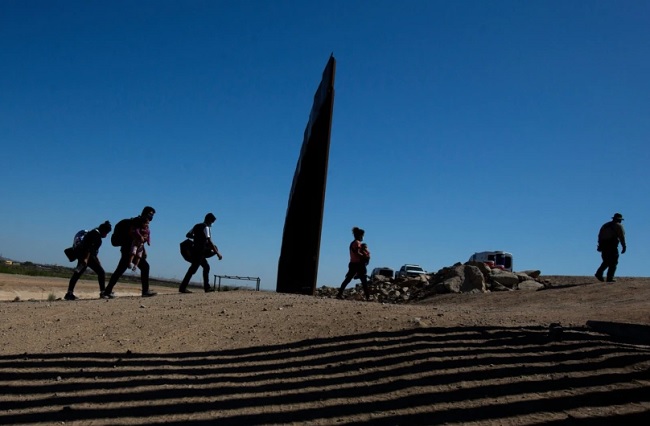 Mexican President Andrés Manuel López Obrador slammed Florida's new anti-immigration bill on Monday, May 8th, calling it "immoral" and "politicking" after lawmakers passed a bill last week that gives Florida Gov. Ron DeSantis $12 million for migrant transports.
"Why does [DeSantis] have to take advantage of people's pain, of migrants' pain, of people's need for political gain," López Obrador said at a press conference. "This is immoral. This is politicking."
The measure will guarantee $12 million for a controversial program DeSantis has used to fly migrants from Texas to Martha's Vineyard.
"Now I found out that the Florida governor — imagine, Florida, which is full of migrants — is taking repressive, inhumane measures against migrants in Florida because he wants to be a candidate," López Obrador said. "Can't he make another proposal to convince people?"
DeSantis is expected to announce a run for president in the coming weeks.
The legislation lawmakers passed last week would require medium-sized and large employers to use the federal E-Verify system to check the status of new employees and mandates hospitals to ask patients about their legal status.
The bill, SB 1718, will also allow authorities to charge someone with human trafficking if they knowingly transport an undocumented migrant across state lines. It would also prohibit undocumented immigrants from driving a car even if they have a driver's license from another state.
López Obrador said that he has a call planned tomorrow with President Joe Biden to discuss migration and the fentanyl crisis.
"We will talk about our cooperation, which is very good, very, very good, and we will keep it that way," López Obrador said.
López Obrador's comments come as GOP governors continue to send migrants to Democratic-led states. Texas Gov. Greg Abbott said Monday that Texas would bus "thousands more" migrants in the coming days. On April 30, Mayor Lori Lightfoot urged Abbott to stop shipping busloads of migrants to Chicago, saying the city does not have the resources to absorb more. New York City Mayor Eric Adams has also been critical of Biden for "failing" the city on immigration.
On Christmas Eve, three buses of migrant families arrived from Texas near the home of Vice President Kamala Harris in record-setting cold.
"Then, in an inhumane, vulgar, and vile way, they started to take migrants while it was cold to New York, to Washington, to the vice president's house," López Obrador said. "The Republicans did this … something that degrades them from a moral, human point of view."
Source.- OEM