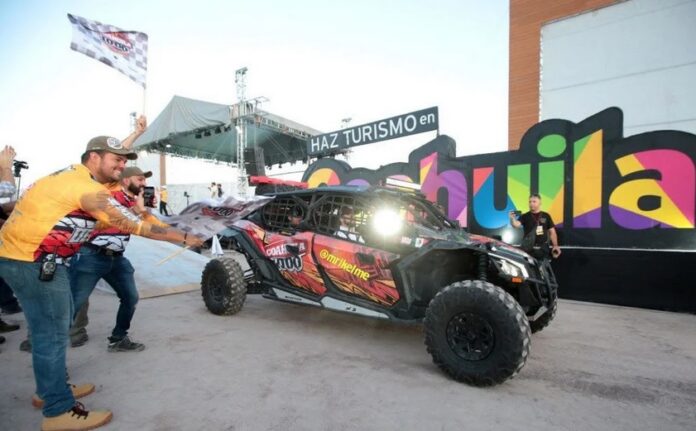 This Friday at 6:45 am, the seventh edition of the "Coahuila 1000" Race started, bringing together more than 250 pilots, in this edition of the "Coahuila 1000" the pilots participate in the 1,000-kilometer Rally categories and in that of Tourism of 600 kilometers.
Previously, pilots, co-pilots, companions, and family members, around a thousand participants in total, were applied the PCR test and 100 percent were declared free of contagion by the authorities of the State Health Secretariat.
The starting flag this weekend was in charge of Governor Miguel Riquelme, who was accompanied by the Mayor of Saltillo, Manolo Jiménez Salinas, and the Secretary of Tourism and Development of Magical Towns of the State, Azucena Ramos Ramos, said that the pilots They have the opportunity to admire the beautiful landscapes that the Coahuila geography offers at the points where they cross with their units.
With events of this nature, which still cannot be held in other parts of the country, Coahuila once again shows unity, work, and how all sports, cultural and educational disciplines are already taking shape, he added.
The participants in the competition do so with full security provided by 210 agents of the State Police; 420 of the different municipal corporations of the 10 localities through which the route crosses, and 30 more of the Mexican Army.
Likewise, along the journey four helicopters contribute to the safety of the participants, two of which would be adapted as ambulances, if necessary, and they are supported by ground assistance in 50 vehicles.
Governor Miguel Riquelme reiterated his pleasure in participating in the race: "because it allows you to enjoy landscapes, the characteristic flora of each of the regions where the runners pass, and above all because it is very good to know Coahuila, each of our main cities , our peoples, our communities ".
"But when you cross your territory, you fall more in love with your state; see the hills, see the mountainous parts, the dry bed of the Nazas River, the desert and the sierra " the governor said.
Source: Vanguardia