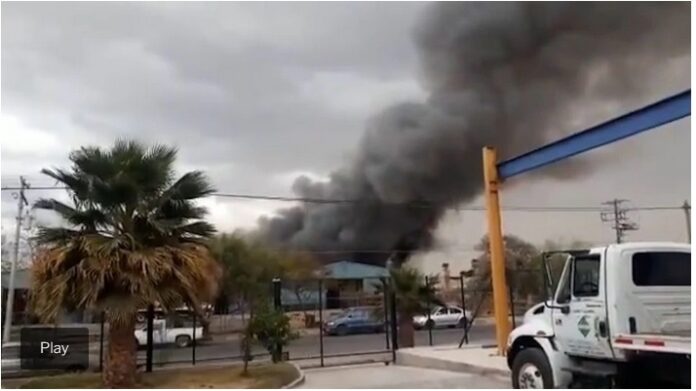 A strong fire broke out on Tuesday, June 29, at the GESOL COFFEE GROUP, a coffee-producing company, located in the Industrial zone of Torreón, Coahuila, between Joaquín Serrano and Aurelio Anaya streets.
According to the first reports, around 3:30 p.m. the fire was reported in the area to the emergency service. Firefighters from Gómez Palacio and Matamoros mobilized to quell the flames that were seen throughout the metropolitan area of ​​the city, they arrived in different units.
So far, Civil Protection does not know how the fire started; however, witnesses assured that it was due to a short circuit in a grain roasting machine. Agents of the Municipal Public Security Directorate, the Metropolitan Force, the National Guard, and the Mexican Army arrived on-site to provide support.
Torreón firefighters reported that no injuries have been registered and police authorities announced the closure of streets, so they could work to mitigate the flames.
At 6:00 p.m., local authorities reported that the fire was already under control and assured that there was no risk of the flames spreading to neighboring companies. They confirmed that they would continue to work to completely extinguish it.
Gómez Palacio public services department announced that they provided support with 30 thousand liters of water to fight the fire. Likewise, residents of the area reported that it began to rain, which was of help to the firefighters and civil protection, who have already controlled the fire.
While on social networks, locals spread the news of the fire because the smoke was perceptible in different areas of the state capital.
Source; INFOBAE