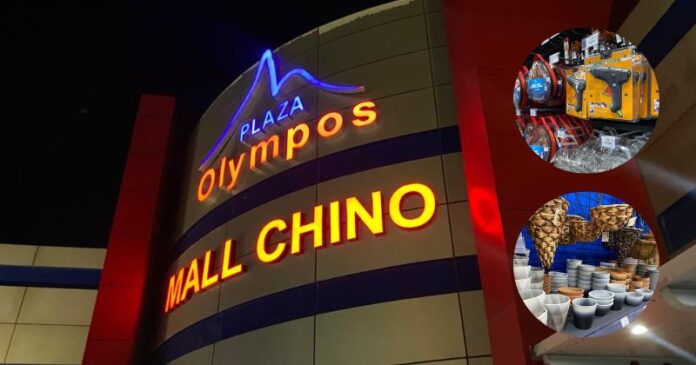 A store selling various items opened its doors at the end of January in the center of Torreón. The place called "Mall Chino" in Torreón, is located between Abasolo and Calzada Colón, in the Colonia Centro.
This store occupies a large area, with almost half a block, despite the fact that at first glance it seems like a smaller space.
In this "Chinese Mall" the Laguneros can find decorative items for the home, entertainment, beauty, and toys, among others.
The office hours of the Mall Chino de Torreón are from 9 am to 10 pm, Monday through Sunday.
We tell you the five things you cannot miss in the new Mall Chino de Torreón
All ready for the party!
The Mall Chino de Torreón has all kinds of party supplies. You can find colored glasses and plates, as well as plastic napkins, spoons, forks and knives with fun designs.
Added to this is a wide variety of birthday candles, with phrases and numbers in different shades. Likewise, they have banners, metal photo backs, balloons to make garlands, sparklers and much more.
Home decor
The new store has different aisles with items that will help you decorate your home. At the Mall Chino de Torreón, you can find pots of different sizes and materials, foliage and artificial flowers, and a wide variety of photo frames.
In the same way, you can buy items for different areas of the home, as they have shower curtains, rugs, blinds and more.
hardware and crafts
A wide variety of light bulbs plugs and switches, silicone guns, oil paints and rollers are some of the items you can find in this store.
If you dedicate yourself to crafts or need home repairs, here you can find various items that will help you in your quest.
To the kitchen!
Another interesting area is the kitchen utensils aisle.
The Mall Chino has molds of all kinds, molds for cookies, pastry sleeves, trays, knives, and spatulas.
It is an aisle with more than a hundred different items for cooking.
Everything for your pet
Finally, another area frequented by visitors to this store is the pet area, as they have different styles and sizes of leashes, collars for dogs and cats, as well as colorful and diverse toys for household pets.
Source: Players of life