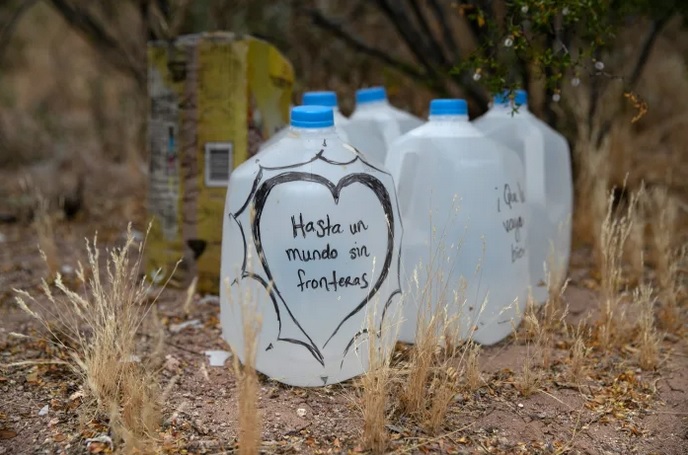 PIEDRAS NEGRAS, COAHUILA.- The terrain around Brooks County in South Texas is vast, harsh, and hot, dotted with thorn-covered shrubs and offering little cover from the broiling summer sun.
That hasn't stopped wave after wave of undocumented migrants from traipsing through and getting lost or stranded as they seek cities to the north, said Eddie Canales, head of the South Texas Human Rights Center in Falfurrias, which helps rescue stranded migrants. Last weekend, a phone call to his call center revealed that a group of 26 migrants had gotten lost and needed to be rescued. Having run out of water, they resorted to drinking river water they had collected from the polluted Rio Grande.
Last year, Brooks County collected 119 migrant bodies from the sun-baked terrain, the highest number in nearly a decade, Canales said. So far this year, they've seen 36 corpses. But, as the summer deepens and days get hotter, he expects that number to quickly climb.
"They come more in the summer now," Canales said. "There's no deterrence. These people come because they're desperate."
In years past, the number of crossings by undocumented migrants typically waned during summer months, as many avoided the lethal summer heat. But lately, faced with U.S. policies that delay their entry and deteriorating conditions in their home countries, more asylum seekers have been trying to enter during summer, leading U.S. Border Patrol officials to issue warnings and train its agents to help keep migrants from perishing in the sun.
In May, border agents and officials encountered 239,416 migrants at the southwest border — up from 180,597 the previous May, according to U.S. Customs and Border Protection statistics released Wednesday. June numbers are still being compiled, but migrant shelter officials expect equally high numbers as last year, when more than 189,304 migrants crossed over, a two-decade high.
More migrants mean more rescue attempts by U.S. Border Patrol agents. So far this fiscal year, the agency has conducted 10,588 rescue missions, on pace to surpass the record 12,833 launched last year. Last week, CBP announced it was launching a new "heat mitigation effort" in southern Arizona that includes arming 500 agents with "Heat Stress Kits" and heat-stress training for its agents.
"As the summer heat approaches, human smugglers will continue to exploit vulnerable populations and recklessly endanger the lives of migrants for financial gain," Tucson Sector Chief John Modlin said in a statement. "The Arizona terrain is extreme, the summer heat is severe, and the miles of desert that migrants must hike after crossing the border are unforgiving."
Source: CBP