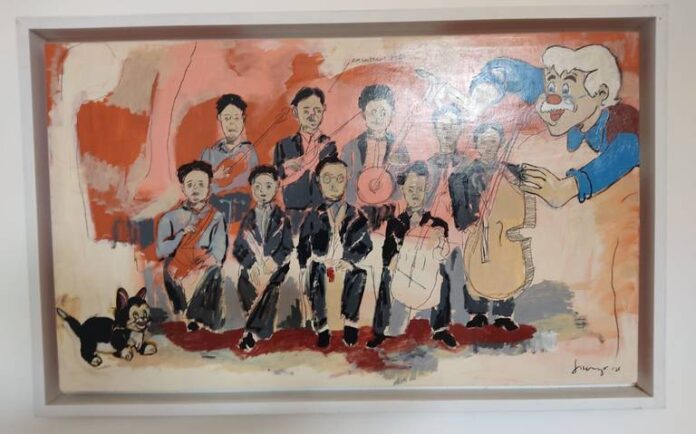 Currently Lorenzo Lugo lives in the city of San Miguel de Allende, Guanajuato
"The Archeology of the Ancestral Cats" is the name of the exhibition by the lagoon artist, Lorenzo Lugo, which will open its doors this Thursday, July 29 at 8:00 p.m. in the Casa de Cantera Gallery, located in Juárez corner with Colón.
The General Directorate of Culture of Torreón invites the public to attend this presentation, with which Lorenzo Lugo returns to his land, in which he speaks, precisely about that, of the origin and the return to the place where he grew up, which he executes as an ode to his ancestors and the memories of his childhood. In this exhibition, he uses the cat symbol to refer to himself and to symbolic characters in his life.
The exhibition is a collection made up of sculptures, ceramic pieces, majolica, mixed media paintings, oil paintings, and ceramic drawing and installation.
Who is Lorenzo Lugo McKelvain?
Lorenzo Lugo McKelvain (Torreón, Coahuila, 1985), grew up in Lerdo, Durango, lives and works in San Miguel de Allende, Guanajuato. Torreonita by birth, cosmopolitan by choice. He finished his architectural career at an early age. He began to create things to avoid going to the psychologist without realizing that this would delineate the lines that today shape his life. Eccentric, bohemian, and baroque to the core, it's all part of his pursuit of happiness; Studying architecture, he quickly focused on art taking painting classes with the teacher Gustavo Montes and then entering the Chanate graphic workshop, where he studied for 6 years with Miguel Canseco, he took courses with different recognized masters in art such as: Castro Leñero, Nunnik Sauret, Gilberto Aceves Navarro, Jose Fors and Plinio Avila. He likes to treat his work in a plastic way where the piece and the space have an intrinsic dialogue, always with a playful and sarcastic tinge. His work has been published by various national and international media, from magazines such as Nylon to newspapers such as Reforma, as well as exhibited in various spaces in the country, such as Mexico City, Querétaro, and Guanajuato.
Recently, at the Casa de Cantera gallery, the exhibition "Palliative" by María Ortiz closed, Lorenzo Lugo's exhibition is the second in a row, after the pause made by the pandemic.
Attendees are recommended to go early since there is limited space, likewise, the use of face masks is mandatory, in addition to following all health protocols.
Source: noticiasdelsoldelalaguna.com.mx
The Torreon Post