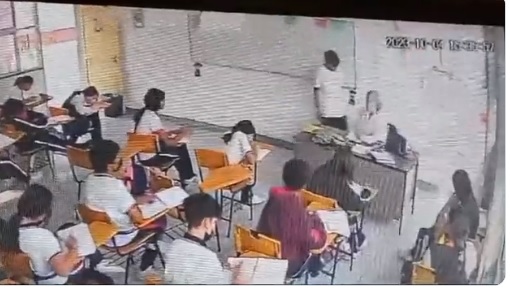 A Spanish class ended in screams and terror after a student from Secondary School Number 1 in the municipality of Ramos Arizpe, in Coahuila, stabbed his teacher in the back with a knife and then fled the classroom around 3 o'clock. :35 yesterday afternoon.
In addition, local media indicated that after injuring his teacher, the young man tried to take his own life.
The reason for the attack is unknown at this time.
⚠️ IMÁGENES MUY FUERTES ⚠️

Alberto "E" de 14 años de edad atacó a su maestra de español con un arma blanca al interior de un salón de clases en la Escuela Secundaria General N° 1 "Rubén Humberto Moreira Flores", en el Municipio de Ramos Arizpe, Coahuila. pic.twitter.com/4fjDHYbvFW

— Adela Micha (@Adela_Micha) October 5, 2023
'This Wednesday afternoon, at the General Secondary School 1 , Rubén Humberto Moreira Flores, in the Municipality of Ramos Arizpe, COAHUILA, a teacher was attacked with a knife by a young man identified as a student of the same institution, a fact that is being investigated by the corresponding authorities to determine responsibility and report the facts to whomever corresponds ,' reported the Government of Coahuila.

'The teacher was taken to a medical institution, where she was treated for her injuries, which are not serious.'
The young man was also taken by ambulance to a hospital in Ramos Arizpe.
Although one version says that the young man attacked his teacher, another states that the teacher was injured when, upon seeing that the young man was handling the knife in a dangerous way, she tried to take it away from him so that he would not get hurt, although in the end both were injured. wounded.
Personnel from the institution reported 911 and requested the presence of an agent from the Public Ministry.
The state government said that, as a precautionary measure, the 'backpack operation' will be strengthened, which consists of checking the belongings of the students when entering the campuses in search of substances and/or objects that could threaten the lives of the students. and teachers.
Source: Reforma
---