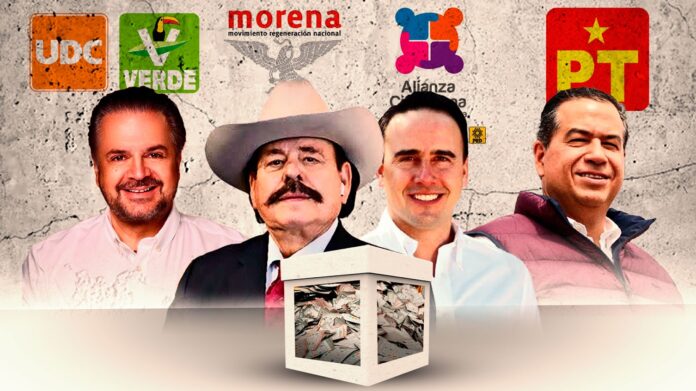 Coahuila 2023 Elections: Morena vs. the -Coalition- Coahuila is one of the three states governed by the PRI in the entire country, and this Sunday, June 4th, its position as governor and 25 deputies are at stake.
Coahuila goes to the polls this Sunday, June 4th, to elect the next governor for the period 2023-2029. In addition, unlike the State of Mexico, in this Northern state, the formation of the local Congress with its 25 deputies is also 'at stake'.
This is one of the three states governed by the PRI in the entire country -along with Edomex and Durango- that today could pass into the hands of another party. The gubernatorial candidates are:
00:02/ 01:00The financialTruvidfullscreenread the article
Armando Guadiana for Morena.
Manolo Jiménez for the "Citizen Alliance for Security" which is made up of the PAN, PRI, and PRD political parties.
Evaristo Lenin Pérez for the "Rescatemos Coahuila" coalition made up of Unidad Democrática de Coahuila and the Green Ecologist Party of Mexico (PVEM).
Ricardo Mejía Berdeja for the Labor Party (PT).
What time do the polling stations open to vote in Coahuila?
At 6:30 in the morning of Sunday, June 4, the permanent session of the Council of the National Electoral Institute (INE) in its board of Coahuila started the electoral day of the local electoral process and gave the flag for the installation of the more than four thousand booths that will be operating throughout the state.
This electoral day will grant the right to vote to 2 million 353 thousand 697 citizens and citizens registered in the Nominal List.
---
During the opening, the executive member of the board, José Luis Vázquez, explained that up to now this is the most observed election of all years since it will have around three thousand registered external observers, not counting the party representation structure. politicians.
Where will the special booths be in Coahuila?
In Coahuila, 18 special polling stations will be available to receive the vote of citizens in transit and each one will have a thousand ballots. In the State of Mexico, there will be 80 polling stations. To know its exact location you can enter the portal: ubicatucasilla.ine.mx
What time will the preliminary results of the elections in Coahuila be released?
After 8:00 p.m., when 100 percent of the polling stations are closed and the first results in the tally sheets begin to be collected, the data collection that will feed the Preliminary Electoral Results Program (PREP) will begin. which can be seen on the official pages of the electoral bodies.
Source.- El Financiero