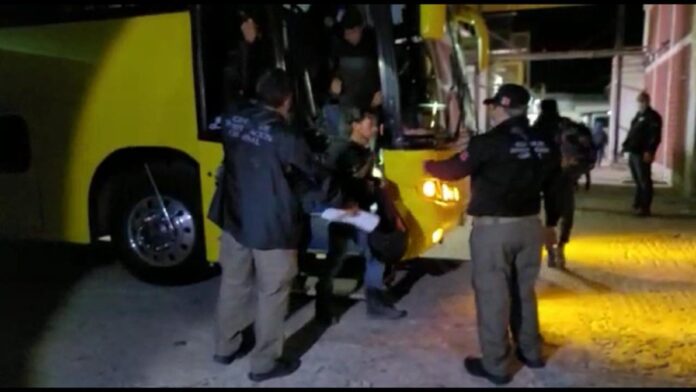 At least 360 illegal migrants, mostly from Central American countries, were found by federal authorities in various parts of Mexico this week, according to the authorities of that country.


The findings are confirmed just when the United States reports that border agents found and detained more than 100,000 illegal immigrants on the border with Mexico between February 3 and March 3, the highest number reported during that period in the last five years, according to data accessed by CNN.
One of the cases registered in Mexico occurred in Chiapas, in the south of the country, where agents of the Federal Ministerial Police found 210 migrants who were traveling in two buses, the Attorney General's Office (FGR) reported this Wednesday in a statement.
Among the passengers were 178 Guatemalans, 16 Salvadorans, 12 Hondurans, and 4 Nicaraguans, the prosecution reported. "At the time of making the routine review and requesting the documents that prove their legal stay in the country, they were not presented," the statement explains.
The authorities reported that, after the review, the Police detained 8 people for their alleged "responsibility for the crime of violation of the Migration Law." The detainees were turned over to the prosecution, while the migrants were sent to the National Migration Institute (INM).
Until this Thursday it was unknown if the detainees had legal representation and the whereabouts of the migrants.
The FGR and the INM did not immediately respond to calls or requests for additional information sent Thursday by CNN.
They find more migrants
In northern Mexico, federal immigration and Army authorities found 55 Central Americans in various buses during a control and verification operation on the roads of Coahuila, according to a Twitter message published by the INM on Tuesday.
In other publications, the institution reported that in Nuevo León 40 foreigners who were traveling in the back of a trailer in the municipality of Salinas Victoria were also detected, who could not "prove their regular stay."
While 60 migrants "of various nationalities" were identified at another inspection point in the same state installed on a highway, according to the INM.
Authorities did not report arrests in these incidents.
Source: cnnespanol.cnn.com, elsureste.com.mx