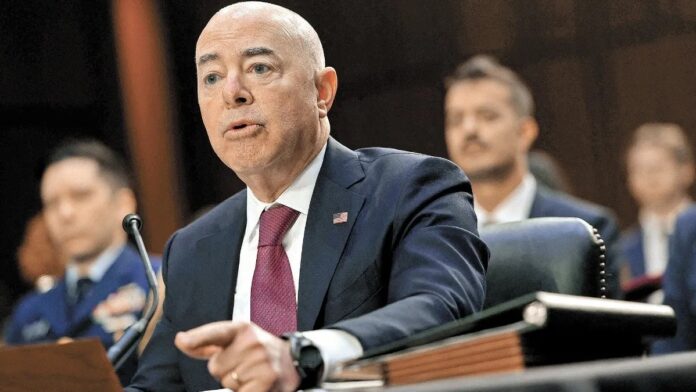 US Homeland Security Secretary Alejandro Mayorkas on Sunday, May 14th, defended the country's border policies, insisting the Biden administration was taking a strong enough stance on a surge of migration while batting away claims it was being overly strict.
Mayorkas took issue with criticism from progressives who compared President Joe Biden's policies to those of former President Donald Trump, who required migrants to apply for asylum in countries they passed through before applying for it in the U.S.
The secretary said that over the past two days, the Border Patrol has seen an approximately 50% drop in the number of people encountered at the southern border compared to numbers earlier this week before Title 42 ended at midnight on Thursday.
"This is not an asylum ban. We have a humanitarian obligation as well as a matter of security to cut the ruthless smugglers out. That is a responsibility of government and we are doing that, and Jon, it is not a ban at all," Mayorkas told "This Week" co-anchor Jonathan Karl.
He went on, "What our rule provides is that an individual must access those lawful pathways that we have made available to them. If they have not, then they must have sought relief in one of the countries through which they have traveled and been denied. And if they haven't done either, it's not a ban on asylum, but they have a higher threshold of proof that they have to meet. That is a presumption of ineligibility that can be overcome."
Mayorkas also fended off barbs over the White House's plan to release some migrants without mandated court dates due to overcrowding in facilities housing those who cross the border despite a judge's recent ruling scrapping the policy.
"We have an obligation to comply with that ruling," he said. "We respectfully disagree with the judge. We think it's a very harmful ruling. When … our border patrol stations become overcrowded, it is a matter of the safety and security of people, including our own personnel, not just the vulnerable migrants, to be able to release them. And this is something that administration after administration has done."
Source: Excelsior