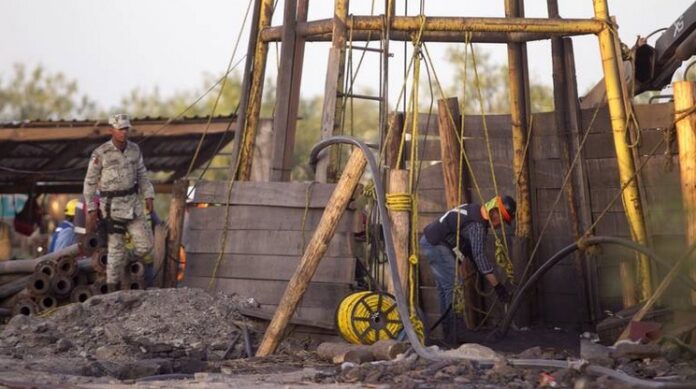 The federal government announced on Tuesday, August 9th, that 5 new shafts will be drilled to extract water in the collapsed coal mine in Sabinas, Coahuila, in the north of the country, where 10 miners have been trapped for almost one week.
"Currently, progress is being made with two wells in operation with a pumping of 100 horsepower each and three (more wells) in the process of being completed.
Five more shafts are being drilled, "explained the national coordinator of Civil Protection of Mexico, Laura Velázquez, in a videoconference from the scene of the facts.
Velázquez said that 134 hours of continuous work have been completed since the collapse of this coal mine was recorded last Wednesday, Sugust 3rd, however, the conditions for the search and rescue of the miners have not been met yet.
Relatives of the trapped miners, as well as the five who managed to leave the El Pinabete mine, in Sabinas, Coahuila, denounced that they received threats from alleged elements of the Prosecutor's Office.
Relatives of the miners denounced anonymously that men traveling in white pick-up trucks and posing as agents of the Prosecutor's Office have come to their homes to threaten and intimidate them.
So, according to testimonies of people who ask to remain anonymous, armed men are threatening the five miners who survived the accident at the "El Pinabete" coal pit and their families so that they would not give interviews to the media.
---
Source: OEM